How to Enable Azure Free Subscription
Posted on December 29, 2021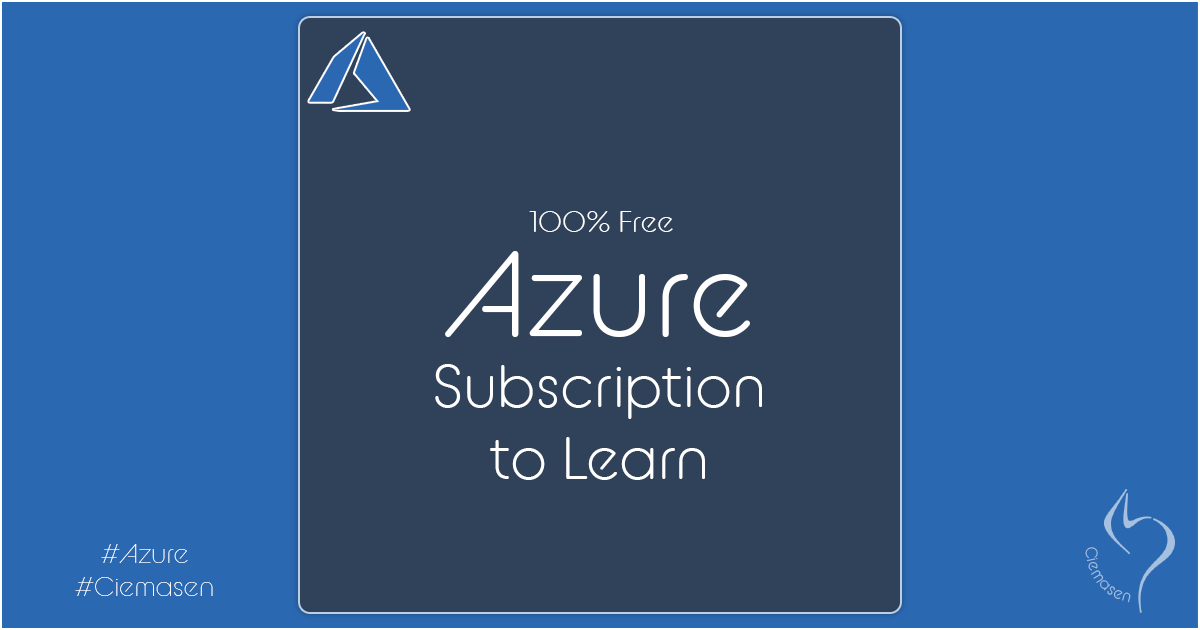 In this article we will explain how to create azure learn sandbox with minimal steps. which will allows you to tryout azure stack with zero cost
Hey, What's up, Welcome back to another very exiting tutorial by Ciemasen. Today we are going to be take a look at trying out azure resources at zero cost. Hope you enjoyed the previous article on How to create Azure Web App. If you missed the previous article, we suggest you to have a look on that first.
Overview
Most of the times most of the technology people want to learn azure stack. There are large number of resources you can find in the internet to learn azure. However when it comes to tryout what you learn, most of the people don't want to spend their money on that. So that will not allow you to move forward. what if, there is a way to tryout azure stack without spending on purchasing azure subscription. yes there are couple of options to do so.
Azure free account allows you to create azure free account by providing a valid phone number and a credit card. That free account will include following features.

Free access to popular Azure products for 12 months.
A credit to spend for the first 30 days.
Access to more than 25 products that are always free.

Azure free student account is an offer for students that gives $100 credit and free developer tools. Also, you can sign up without a credit card.
Learn sandbox creates a temporary subscription that's added to your Azure account
You can choose any of the above mentions options. In this article we will explain how to activate Learn sandbox with easy steps.
Getting started
As mentioned earlier this article will explain how to create Microsoft Learn sandbox with minimal steps. which will allows you to tryout azure stack with zero cost (free of charge)
Microsoft learn includes azure related articles which allows you to learn azure stack fast. Most of the modules includes hands-on exercise which require azure subscription to continue. Here Microsoft has something called Learn sandbox. As the name says, it will create a sandbox environment with a temporary subscription which allows you to create Azure resources for the duration of a Learn module. When you complete the module it will clean the resources automatically.
Create learn sandbox
In order to activate the sandbox, we need to start a learn module and it will allows us to create the sandbox. However, as mentioned in previous step, Learn sandbox will be available only within the duration of the learn module. So we have to find a long duration module.
We will be using this exercise in order to activate the Learn sandbox. Feel free to use any other exercise to activate the sandbox.
Navigate to the selected learn module
Click on Activate sandbox
Wait for the activation progress
Verify the confirmation
Navigate to directories and you will see Microsoft Learn sandbox is available there
Also you can verify the new subscription created with name Concierge Subscription
Now we are ready with the new Microsoft Learn Sandbox. Now you can give a try on the previous article How to create Azure Web App with the new subscription. Also you can tryout other azure resources inside this new subscription and the content you create will be available till the duration of the module you selected. In this case it will be available for 4Hrs.
Hope you enjoy the tutorial and see you soon in another very exiting tutorial